Bookplate label templates were not as easy to find as I thought. Here is one made in microsoft word format.  You can edit the text and the little monogram.  You can also replace the winding emblemb with autoshapes if you wish.  MS Word comes with many interesting shapes. Click on the screenshot below to get your own template file. The labels used here are our RC-1200.  4 x 3-1/3 Labels.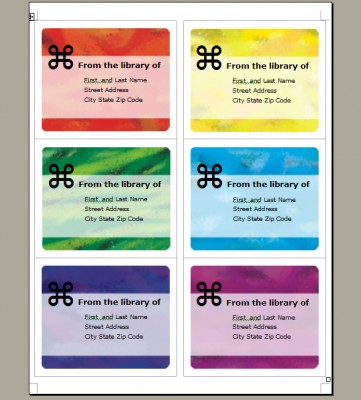 Bookplate Labels are great for identifying and categorizing books that you allow other people to borrow.  This way, you will know for sure that the book that someone has is yours and will avoid any possible conflicts. Plus, it is great to have these colorful decorative bookplates to liven up the inside cover of your books.
Buy
Sheet Labels
for your laser and inkjet printers at begalabel.com!
Filed under: News & Updates on August 21st, 2009